AEON MALL Hai Phong Le Chan has opened on December 14th 2020 and become the favourite entertainment and shopping location in Hai Phong. So what do you know about this special shopping mall in Japan? In this article below, let's explore other interesting surprises!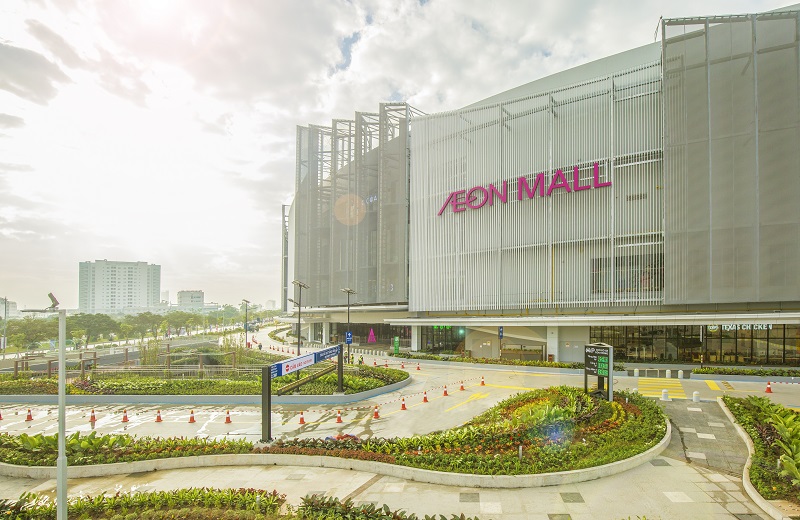 What is AEON MALL Hai Phong Le Chan?
AEON MALL Hai Phong Le Chan is one of six shopping malls in Vietnam directly belonging to AEON Group, the world's leading retail trade group that has existed for more than 250 years, under AEON MALL – a key company playing the role of developing and operating shopping centers.
Till August of 2019, in 5 countries around the world, including Japan, Indonesia, China, Cambodia, and Vietnam, AEON MALL has built a system of 170 shopping centers.
Vietnam currently has 5 AEON MALL shopping centers, including 2 in Ho Chi Minh City, 1 in Binh Duong, and 2 in Hanoi.
It is expected that the opening of AEON MALL Hai Phong Le Chan will be the 3rd shopping mall in the North and the 6th of AEON MALL Vietnam. In particular, it is the first and largest Japanese shopping mall in Hai Phong.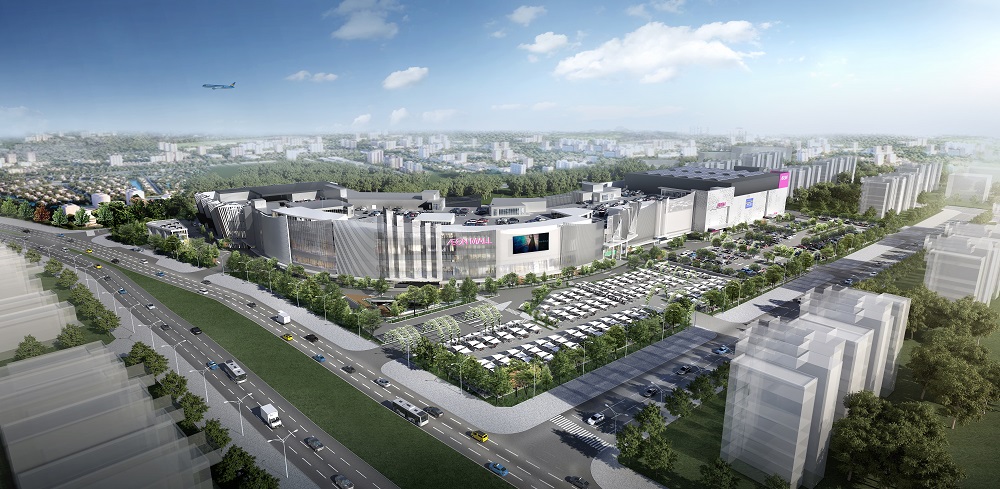 The meaning of the name "AEON MALL Hai Phong Le Chan"
"AEON" in Latin means "everlasting." The name is compounded from "AEON MALL" (the key company of AEON Group) and "Hai Phong Le Chan" (the address of the shopping mall in Le Chan District, Hai Phong).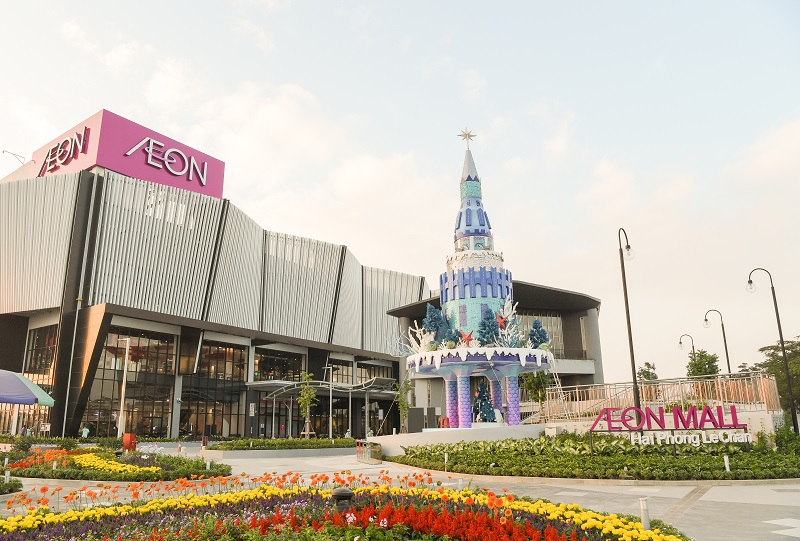 How to pronounce "AEON MALL" correctly?
Most Vietnamese people often find it difficult to pronounce the word "AEON MALL" when reading the names of AEON MALL shopping centers and have pronounced it with many variations, such as "i – on – mo," "a – e – on – mo" hoặc "e – on – mo", etc.
Today's official pronunciation by AEON MALL Vietnam is "i- ông- mô.." Therefore, please remember to say "i-ông-mô" only to make it easier to listen to the shopping center's instructions!
AEON MALL Hai Phong Le Chan Logo
The color of the AEON MALL Hai Phong Le Chan logo is an interesting point that many individuals may not notice.
The unique combination of Red (Aspiration) and Blue (Peace) in the word "AEON MALL" creates the characteristic Magenta pink. This contributes to the unification of the AEON Group's fundamental principles: "Pursuit of peace, stability, respect individuals and dedication to the local community, where customers are the core aspects."
The official logo of AEON MALL Hai Phong Le Chan:

What is in AEON MALL Hai Phong Le Chan
As a long-standing and well-known shopping mall in Japan, AEON MALL promises to bring a truly unique shopping mall to Hai Phong for the first time, attracting customers of all ages with innovative and exciting features.
A top-fashion, cuisine, and entertainment complex
AEON MALL Hai Phong Le Chan deserves to be an "all-in-one" destination, fully integrated with fashion shopping – cuisine – entertainment services in a single shopping mall, with the ability to meet the diverse needs of customers optimally
Nearly 200 tenants from renowned brands worldwide and in Vietnam will gather on a floor area of 158,000 square meters. Besides, customers will not ignore the AEON Supermarket and Department Store, which always provides delicious food, diverse and high-quality products.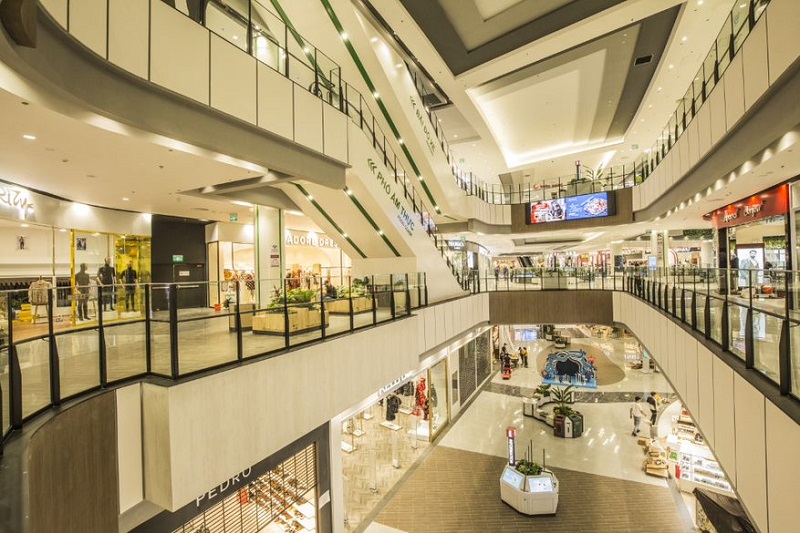 A "green – healthy – spectacular" space
If you have ever visited AEON MALL shopping centers in Vietnam, you will not only be impressed by the beautiful, luxurious, and classy space but also the freshness and environmental-friendliness. This is a typical architectural feature, expressing the spirit of an "eco-friendly shopping mall "of the entire AEON MALL system.
AEON MALL Hai Phong Le Chan is built to develop this orientation with the inspiration of a dynamic and modern port city, yet still, remain the beauty and calm power of nature. This is clearly shown by many designs that recall the image of waves, sails, interwoven with many vibrant plants, creating an ideal background for your photographs.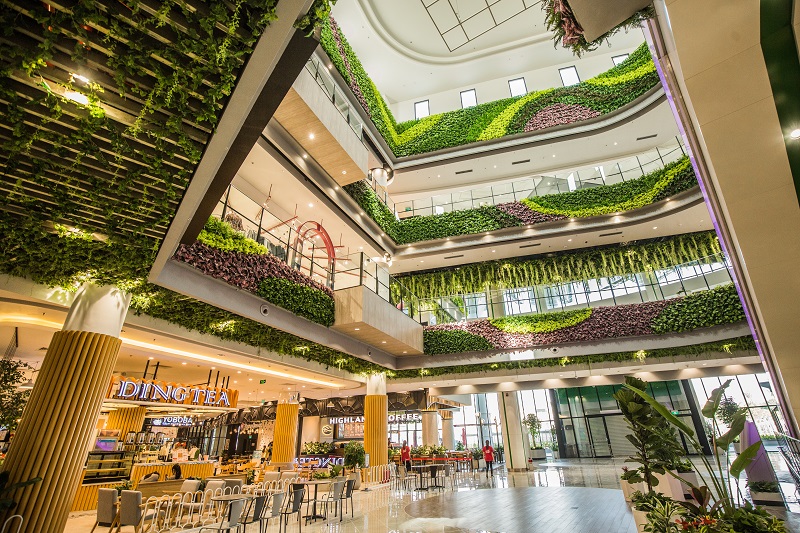 The diversity of free and modern utility services
Largest free car park
By the end of this year, a spacious car park with a capacity of up to 1,700 cars and 7,000 motorcycles will show up at AEON MALL Hai Phong Le Chan, expected to become the largest free parking in the city; including outdoor parking lots and basement parking lots. Therefore, customers who come to shopping centers can feel secure to shop without worrying about their vehicles.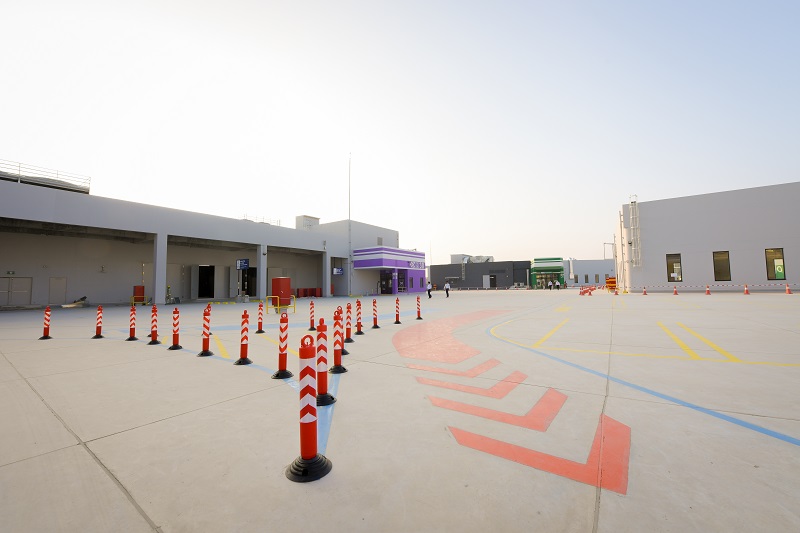 Special purpose rooms
It is always difficult for families with small children to take care of the baby when going out because they do not have the necessary facilities. Understanding that AEON MALL Hai Phong Le Chan provides an ideal place to solve all concerns and demands of caring for mom and baby while shopping time such as breastfeeding, preparing milk and meal for baby, changing diapers, cleaning
and washing of baby goods, etc.
Furthermore, according to Japanese standards, the bathroom and the elegant beauty corner are also an attractive highlight due to the luxurious interior and extreme hygiene. To keep the atmosphere of the shopping mall fresh, the smoking area is separated from other spaces.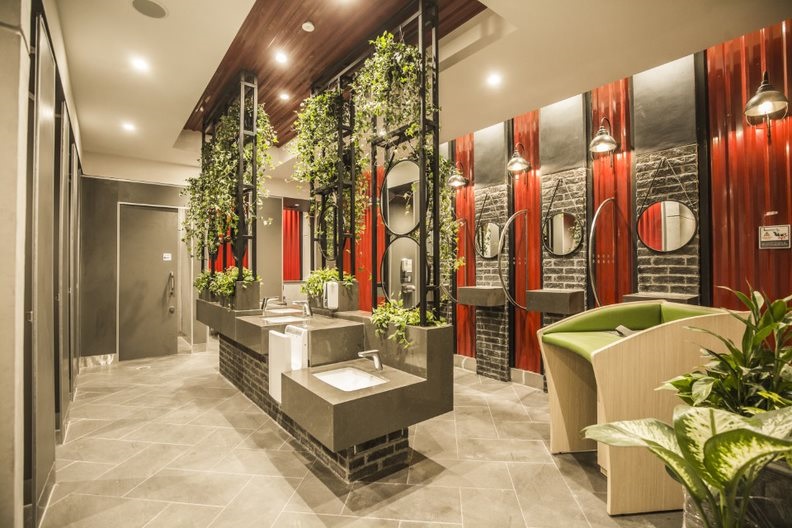 Free wifi, phone charging, e-locker and electric vehicle charging points
These are great utilities that will help you get rid of your common concerns, such as the phone is out of battery, the sim is out of network data, lost furniture or even out of power for the car. Coming to AEON MALL Hai Phong Le Chan, all you have to do is enjoy all the amenities comfortably: free wifi access from all public areas, many charging points are installed near the rest area, e-lockers have lock function by mobile application and the charging stations for electric cars are always available.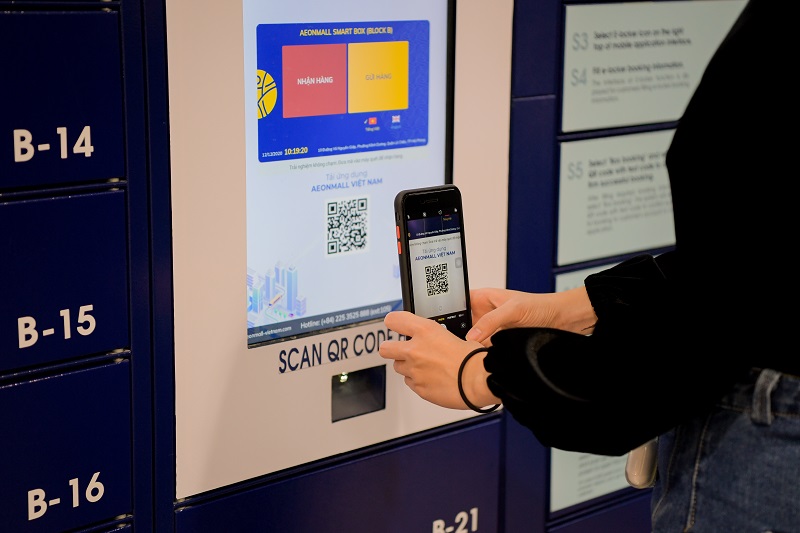 Meaningful community events and activities
AEON MALL Hai Phong Le Chan brings the community together with many spectacular events and festivals throughout the year to become a gathering destination. Visiting the shopping mall every season, you will witness countless human joys mingling with interesting activities in the dazzling scene of the impressive decorative clusters.
AEON MALL Hai Phong Le Chan also maintains many significant community programs in addition to cultural festivals, such as the Tree Planting activity: "AEON hometown forest," monthly Cleaning Day, and much other charity and volunteer events.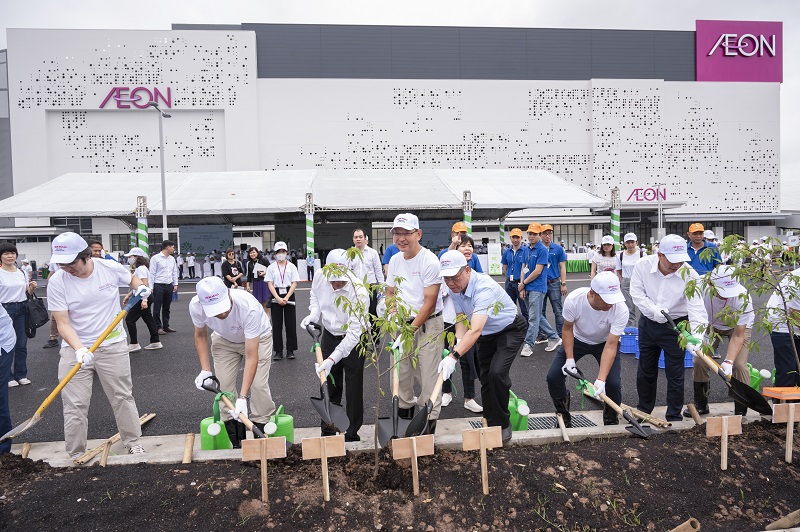 Dedicated and professional services
For their "Omotenashi" service philosophy, which means "believing in service without expecting thanks," the Japanese have long been known. In the motto "Customer first," AEON MALL Hai Phong Le Chan has thoroughly applied this philosophy, considering customer satisfaction as the goal for all development efforts.
During opening hours, when visiting the mall, you are always welcomed with a Keirei greeting, a formal bow of 30 degrees. All the staff is ready to support you with a smile on their face when you need guidance. Because of the staff's attentive and sincere reception, you will feel comfortable like you are at home.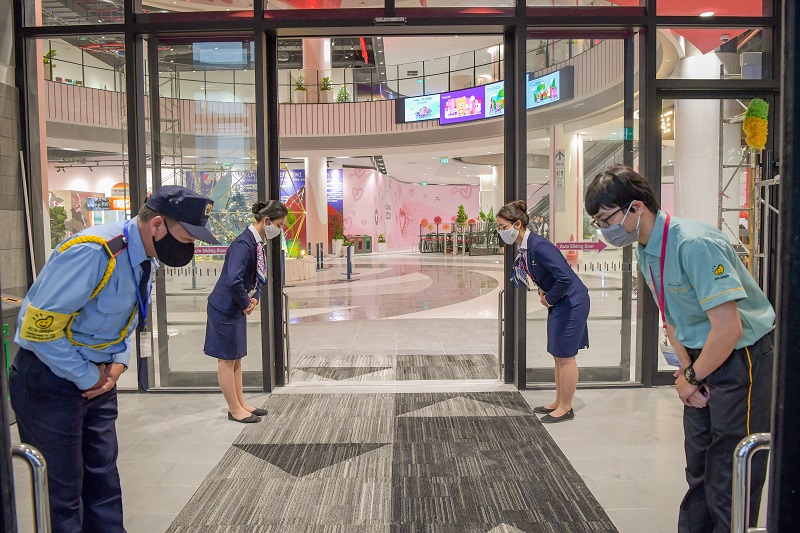 This dedicated and professional service spirit has greatly contributed to the AEON MALL brand's success in general and the future of AEON MALL Hai Phong Le Chan in particular.
Is it attractive enough for you to visit AEON MALL this December? Let's count down to the opening day to contemplate even more interesting surprises!
AEON MALL Hai Phong Le Chan is pleased to welcome you!