As summer is coming, AEON MALL Hai Phong Le Chan warmly welcomes you to a comfortable and cool shopping space. Especially, at the shopping mall, the Mega Sale program is taking place, offering a 10% discount code when customers use Mastercard to pay.
The program is co-organized by AEON MALL Hai Phong Le Chan with Mastercard and Payoo, to bring more joy to customers when shopping at the shopping mall and experiencing Mastercard payment through their devices provided by Payoo.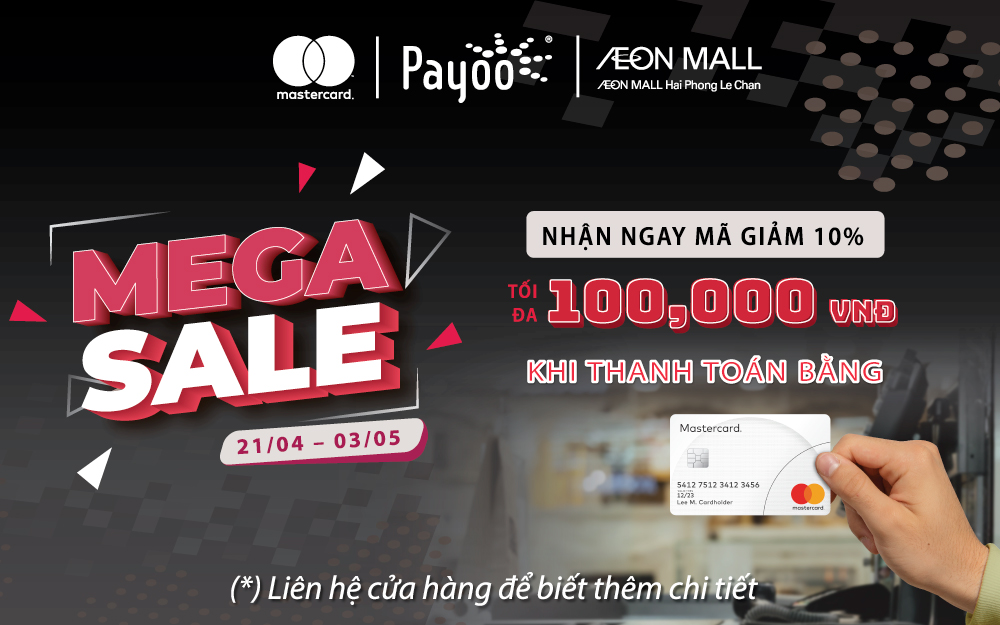 Details of the promotion are as follows:
The program offers all customers 01 discount code of 10% (up to 100,000 VND) for customers shopping and paying with Mastercard for orders from 100,000 VND at AEON MALL (not applicable at KOI Thé milk tea shop, supermarket area and prepared food counter).
The discount code consists of a 13-digit code sequence and is sent a message by Payoo to the phone number provided by the customer during payment within a maximum of 30 minutes from the time the payment transaction is successful. Customers can use discount codes at the stores listed in the message.
1. Time
Promotion period: 21/04/2021 – 03/05/2021
Voucher validity period: 21/04/2021 – 18/05/2021
2. How to get the offer
Step 1: Shopping at ​​AEON MALL Hai Phong with orders from 100,000 VND.
Step 2:  When paying for the order, the customer informs the cashier that he wants to pay with  Mastercard and provides his correct phone number to the cashier.
(Note: Discout code will be sent to this phone's number by Payoo)
Step 3:  After the payment transaction is successful, the discount code will be sent to your phone number within 30 minutes.
3. How to use discount code
When paying for an order, the customer gives a discount code to the cashier to enter it on Payoo's payment terminal and provides phone number to the cashier.
The final amount the customer pays is the amount that has been reduced by 10% (maximum 100,000 VND). You can pay with any bank card or scan QR code from banking application, e-wallet.
If you use Mastercard to pay and the payment value is from VND 100,000 after receiving a 10% discount, you will continue to receive a discount code through the phone number provided.
4. Notice
To use the discount code from Payoo for your next purchase, you need to pay by bank card or QR code (via banking application or e-wallet), the program does not apply for payment in cash.
After applying Payoo discount code to enjoy the offer by scanning QR code or paying by card on Payoo POS machine, the minimum payment value of the order must be from VND 1,000 or more (the minimum payment will be VND 1,000). apply according to the specific regulations of each bank).
The offer is limited, so priority will be given to customers who come first, if the numberHotline TTTM AEON MALL Hải Phòng Lê Chân: 0225 3525 888
Hotline Payoo: 1900 54 54 78. of offers is exhausted, you will not receive a message of gift voucher code from Payoo.
The discount code is valid for the next purchase and is not exchangeable for cash.
There is no limit to the number of times a customer can receive the offer.
The program will end when the number of offers is exhausted or the program period expires, whichever comes first, or the system detects signs of fraudulent speculation from the user/partner.
5. Address of AEON MALL Hải Phòng
No. 10 Vo Nguyen Giap Street, Kenh Duong Ward, Le Chan District, Hai Phong city
>> If you require any further information, feel free to contact:
Hotline AEON MALL Hai Phong Le Chan: 0225 3525 888     
Hotline Payoo: 1900 54 54 78.